Paloma Cruise Halong  is a wooden junk that combines classic beauty with modern comfort in both design and decoration.
Come on board Paloma Cruise Halong Bay, you will have a chance to enjoy many interesting activities (cooking class, kayaking, swimming, Tai Chi lesson,…) as well as the glorious splendor of Halong Bay. We ensure our customers will have the most memorable vacation where your floating hotel takes you discover scenic wonders of the Bay. Halong Bay Paloma is is a unique cruising experience while you are in Halong Bay.
Good service is key. Therefore, we always want to hear from our customers so that we can improve our services and we really value their feedback. We built objective for the future is to continue to provide the best service and develop new products. When joining Paloma Cruise, we commit to provide the lowest rates with our "Best Rate Guarantee" and bring you the experiencing you expected. Join us, you will love the experience onboard Paloma Halong Cruise.
We are proud to be one of the best Halong Bay cruise recommendation based on travelers posts of Halong Cruise Reviews on Trip Advisor. 
FEATURES

 

Rebuilt

 May 2015


Length

 38m

Height

 3,7m

Width

 9,5m

01 sun-decks

 80m

01 Dinning areas

 60m

Bar

 25m

22 Luxury Cabins

 

1 Massage and Spa Area

 

PORT LOCATION

 

Address

 Vinashin Wharf, No 6A Le Thanh Tong str, Hon Gai, Ha Long City, Quang Ninh, Vietnam


Distance to nearest bank or ATM

 300 m

Distance to nearest hospital

 4 km

Distance to Hanoi airport (Noi Bai)

 170 km or 3.5 driving hours

Distance to Haiphong airport (Cat Bi)

 80 km or 1.5 driving hours

 

 

TRANSPORTATION

 

Shuttle bus service

 Daily departure at 7:30 am - 8:00 AM from Hanoi with compliment bottle of water on bus. Pick up and drop off hotel near by the old quater


Private Car service

 On request

Helicopter service

 On request

CHECK – IN / CHECK - OUT

 

Check in time

 12:00 - 12:30 noon


Check out  of room time

 10:00 A.m

Disembark Time

11:30 - 12:00

 

 

CREDIT CARD ACCEPTED

 

Visa, MasterCard

 

 

 

LANGUAGES SPOKEN

 

English, French, Vietnamese

 
Accommodation

 

Deluxe Ocean

 View 

10 cabins

Premium Ocean View 

08 cabins

Paloma Suite 

02 cabins

Family Executive Suite 

02 cabins

Total number of cabins

22 cabins

Total passengers

48

Cabin Amenities (All Cabin Types)

 

Hair-dryer

02 bottle of mineral water

Individual controller air-conditioning

Mini bar

Shower cabin

Slippers

Toilet

Life vests

Bathroom amenities

Fire extinguishers

Umbrella / Raincoat at reception

 

 

 

Paloma Suite 




 

 

Number of cabins: 02 cabins
Average room size: 23 sqm
Cabin type: Double cabin
Maximum number of persons allowed: 02 adults
Additional amenities & services: 
Sitting Sofa
Fruit basket
Bottle of wine

 
 
Family Executive Suite

 

 
Number of cabins: 02 cabins
Average room size: 27 sqm
Cabin type: Triple cabin
Maximum number of persons allowed: 03 adults + 01 Child below the age of 12
Additional amenities & services: 
Private terrace with front view
Flower & fruit basket
Bottle of wine


 

 

Premium Ocean View

 

Number of cabins: 08 cabins
Average room size: 16 sqm
Cabin type: 05 double & 03 Twin (Convertible into Double Bed)
Maximum number of persons allowed: 02 adults + 01 Child below the age of 12
 
 
Deluxe Ocean View

 

 Number of cabins: 10 cabins
Average room size: 14 sqm
Cabin type: 03 double & 05 Twin (Convertible into Double Bed)
Maximum number of persons allowed: 02 adults + 01 Child below the age of 12
 
 
Paloma Cruise welcomes you onboard. We hope you will have a wonderful Ha Long Bay cruise experience. For your own comfort and safety, we ask you to acquaint yourself with the vessel and familiarize yourself with the onboard safety systems and procedures outlined in this information sheet.

Safety Facilities List:

•    60 life jackets total, including 44 inside cabins
•    22 hammers
•    21 fire extinguishers 1kg in cabin for passengers' usage
•    16 fire extinguishers 3.5 kgs on the staircase
•    02 fire extinguisher 34 kgs in the reception area and the restaurant
•    01 alarm for fire in all parts of boat (in case of smoke)
•    01 alarm for water level in basement

Company Safety Measures

1/Paloma Cruises are commanded by a Captain, and manned by a professional Deck Crew and Cruise Staff. All Crew and Staff have training certificates or recognized expertise accredited by the relevant Vietnamese Government Authority or Agency.
2/ Paloma Cruises operate under professional daily technical supervision and ongoing maintenance schedules. Each vessel maintenance schedule includes regular monthly and bi-annual routine maintenance and an annual dry-docking to ensure all aspects of seaworthiness and accommodation are in good condition. 
3/ Our Cruise Managers conduct a safety briefing prior to departure. The briefing includes onboard procedures and clear instructions in case of emergency.
4/ Paloma Cruises Crews are trained for SOLAS (Safety of Life at Sea) and dealing with emergencies. Refresher training and live drills are conducted every 6 months.
5/ The vessel is fitted with professional marine safety equipment:  VHF Radio, GPS Plotting, Two-way radios, Water Ingress Alarm System, Anti-sinking Pump System, Fire Alarm system and fire extinguishers. 
6/ The vessel is inspected by the local Maritime Registration Authority annually and certified accordingly.
7/ Paloma Cruises  are covered with maximum vessel insurance based on the vessel certification, including total Crew and Passenger capacity. 
8/ Paloma Cruises places the highest priority on the safety and security of our vessels and all Passengers, Crew and Staff onboard. 

Onboard Safety

Captain and Crew Introduction Briefing:
General information about the Paloma cruise, such as itinerary, vessel age, tonnage, speed, etc. A full safety briefing is included.
Weather Forecast:
The weather forecast for the next 24 hours is included in the briefing.
Fire Protection:
Fire Extinguishers are located in all cabins, ladder ways, passageways on each deck and in all operating compartments throughout the vessel
Smoking:
Smoking is prohibited in all cabins, the dining room and all other internal compartments. Smoking is only allowed on the open balconies, sundeck and in front of the wheelhouse.

Life Jackets:
Life jackets are located under the beds in all cabins, under all dining room chairs, in the tender boats and on the Sundeck.
A life jacket demonstration will be given. This is not only for emergency situations, but also for safety when kayaking, when visiting the fishing village and any other water sport activities.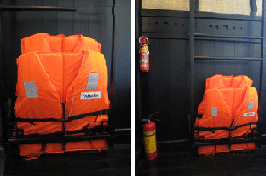 Life jacket


Onboard First Aid and Medicine:
First Aid Kits and rudimentary medical facilities are available onboard. Our Cruise Managers and other senior staff have all attended First Aid Courses.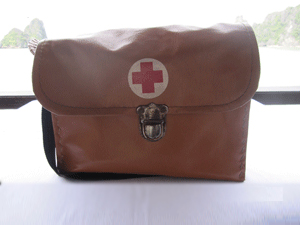 Onboard first - aid - kid


Emergency cases
In Case of Emergency, "DO NOT PANIC!" Remain calm and follow the directions of the Cruise Manager for the proper emergency actions or evacuation instructions. All Staff and Crew are trained for emergencies and each has their own role to play in the handling of emergency situations.
Hammer & Flashlight


Environment:
 Paloma Cruise' special environmental policy commits the company to finding ways to reduce pollution in the Ha Long Bay environment. We ask our Passengers to refrain from throwing any waste whatsoever overboard. Please be responsible and put it in the waste containers so we can deliver it ashore for appropriate disposal.
Security of Valuables:
You may secure your valuables in the safety deposit box at reception. Simply register the items and they will be placed in our safekeeping. Management bears no liability or responsibility for any missing belongings unless they are registered and kept in safekeeping at reception.

Cabin Security:
Passengers must ensure all cabin doors and windows are closed when the cabin is unoccupied. This minimizes the workload of the power generator and increases the vessel's watertight integrity.
The Paloma Bar is always available and ready to serve you at anytime. Relaxing and unwinding in the bar which adjoins the restaurant. Enjoying pre-dinner or after-dinner drinks, relaxing in the soft seating area, browse our selection of books and magazines or watch a DVD on the plasma TV. The bar is fully stocked with fine wines, spirits, alcoholic and non alcoholic drinks.

The dining area was located on the 3rd deck where amazing dishes will be served with the melody music our high quality services and fine dining experiences. In addition, you will be delighted with gourmet dinner, sumptuous buffet breakfast combining Vietnamese specialties, Western delicacies and seafood. The Chef's menus feature a variety of Vietnamese and Western dishes because it is an innovative blend of European cuisine with Asian twist. Enjoying delicious food with Vietnamese ingredients and flavors and enjoying other well-known traditional specialties is also a special experience.

Non-meat eaters will be able to sample some of the best vegetarian food in Vietnam.
Dining Room & Bar

| | |
| --- | --- |
|     Breakfast: 7.00 - 8.00 Buffet |   |
|     Lunch: 13.00 - 14.30  & 10.30 - 11.30 Set Menu |   |
|     Dinner: 19.00 - 21.00 Set menu |   |
|     Seating capacity: 50 Passengers  |   |
|     Bar: Teas, coffees, fresh juices, mocktails, cocktails  wine and spirit list sourced from around the world                                                                                |   |
During your stay on the Paloma Cruise, you won't be short of things to do. You will be leaded to do kayaking on the bay by our professional tour guide, swimming in the crystal fresh water or pamper yourself in our luxury spa. We also celebrate cookery demonstrations for those who are interested in learning the art of Vietnamese cooking. After dinner you can join in squid fishing activity. Furthermore, taking part in early morning Tai Chi on the sundeck is a perfect way to welcome a new day on Paloma Cruise.
Onboard Activities

Kayaking
Bamboo rowing boat
Spa & massage
Swimming    

Cooking demonstrations
Early morning Tai Chi
Sun Set party
Join the staff to go cuttle fishing in the evening
If you're looking for a venue for a party or event for a big group, Paloma Cruise can organize for a group from 30 to 45 people. Halong Paloma cruises is perfect for peoples of all ages looking for a new way to host  a celebration, family vacation, honeymooners, wedding party .....

Paloma Cruise offer the best in accommodations, decor and service. You can leisurely sunbathe on sundeck with the backdrop of the world's wonder of nature, Halong Bay, or relax your body with our spa service. You can also take part in several exciting activities, like swimming in turquoise water at pristine beach.
Dining and dancing in Halong Bay Grotto/Cave, in addition, promise you and your group a unique experience. Candle light, live music, and fine dining! 
 
Onboard Events (On Request)

Meeting & Conference 
Fashion Show
Traditional & modern live music 
Traditional & modern dance
Beach party     

Theme Cruise
Weeding ceremony
Birthday,  weeding anniversary, honeymoon
Dinner in the cave