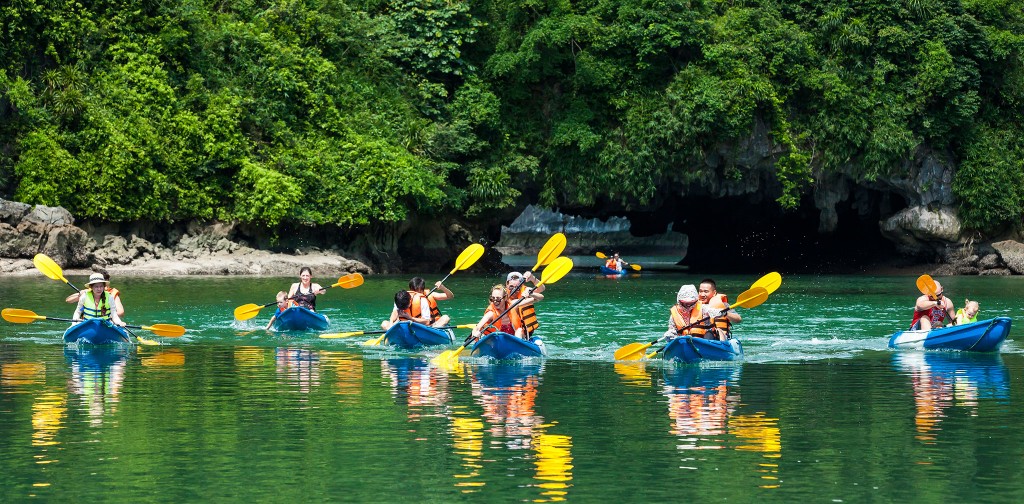 Halong Bay is famous for its natural beauty and its thousands of limestone islands and islets.The best way to explore the breathtaking nature of Halong Bay is kayaking. Kayaks go where other big boat cannot, from floating villages to hidden caves and unspoiled beaches. The boat docks at specific sites in the bay, where your tour guide leads you through the area in your private kayak. You'll float past enormous islet pillars sprinkled in lush greenery, contrasting against the crystal-clear, emerald-colored water. Explore inlets and caves up close, leaving you to wonder why anyone would settle for just a simple boat ride to experience the splendor of the bay.
Kayaking in the bay is generally considered safe because the waters are calm. However, certain precautions should be taken. Here are some useful tips for you when you go kayaking: 
Preparation:
Prepare  suitable clothes: T-shirt and short, swimming suit in the summer; warm clothes (no cotton) in the winter; sandals, hat, sunglasses
Ensure that your life jacket is securely fastened 
Bring a waterproof camera and it's better to ask staffs to help you keep your cell phone and other electronics.
On the go:
Following the tour guide is very important, it is risky to do by yourself without warning or instruction. The tour guide will show you how to use the paddle and guide you to the safe areas. Keep a suitable distance with the others, not too far. It is important to keep in sight with the others.
Kayaking is provided and included in all itineraries and cruise offered by Paloma Cruise.